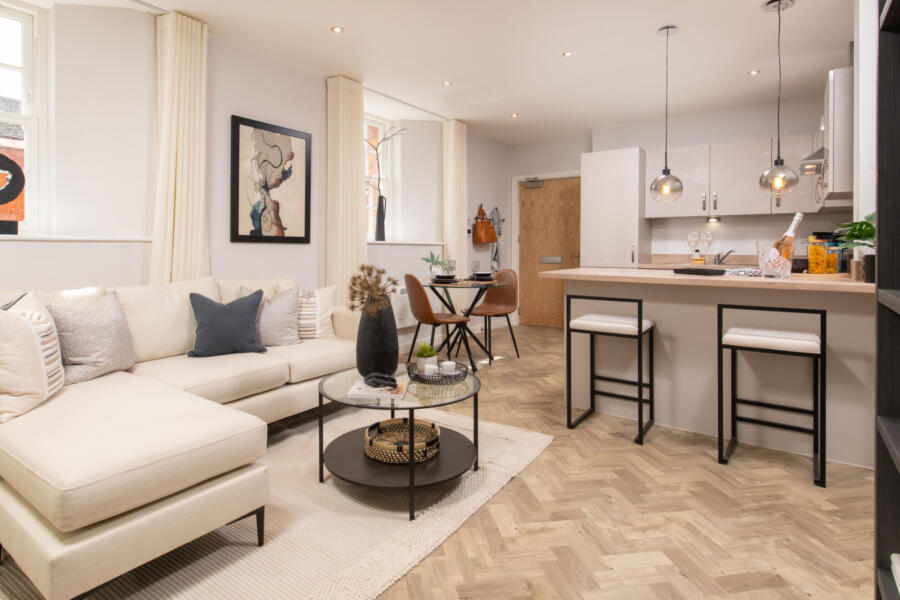 At Bellway we're really proud of our beautiful showhomes, and we know you love to take a look around them for ideas and inspiration when you're searching for your perfect new home – and even when you're not!
Our Showhome Spotlight gives you the chance to see more of our showhomes, meet the professional interior designers who created them, and find out more about their inspiration and creative design process. Plus, they share their expert tips and ideas on how you can introduce showhome style into your own dream home.
In this edition of Showhome Spotlight we're exploring The Mercian, a stunning 2-bedroom apartment at Copthorne Keep, our development of new homes in Shrewsbury on the historic site of the former Copthorne Barracks. Located within The Keep apartment building, which boasts impressive turrets and charming architectural details, the showhome's interior designers Blocc Interiors were inspired by the heritage of the site to style an impactful yet contemporary home.
"The brief was to create a desirable, smart and sophisticated scheme that appealed to young professionals," said Jessica Chapman, Interior Designer at Blocc. "Our aim was to infuse the space with a sense of aspiration while ensuring an environment that exuded modernity and style."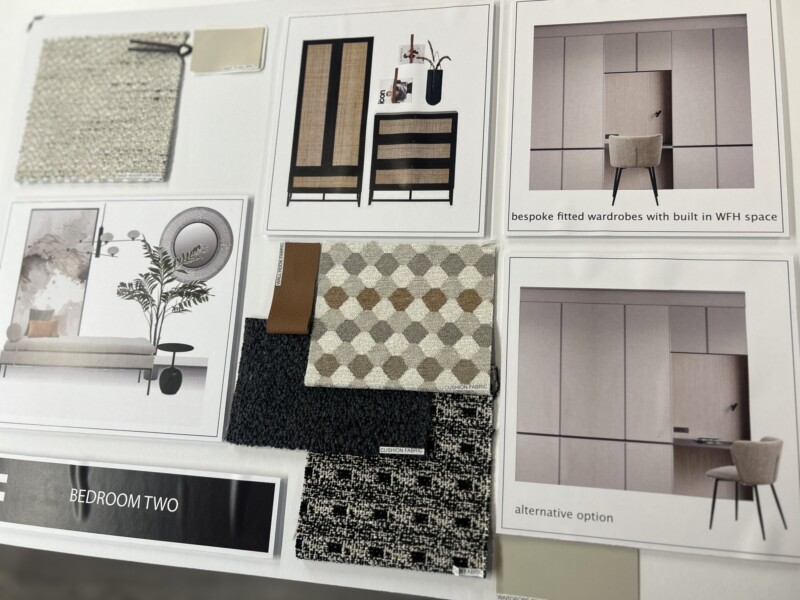 Every showhome begins with a mood board, which enables the design team at Blocc to envision the finished interior and how its many elements will work together. For The Mercian, Jessica sourced images and fabrics within a neutral colour palette, elevated by intricate patterns, rich, tactile textures and dark accents - a style that she describes as "a fusion of smart modernity".
"I incorporated black finishes throughout, which created a contrast with the light upholstered furniture, and resulted in a sharp and sleek modern look," says Jessica. "To infuse some warmth into the design, I introduced warm tan and burnished colours.
"These earthy tones helped to add cosiness and aided in creating an inviting atmosphere. It's all about striking that harmony between bold contemporary elements and a welcoming ambiance."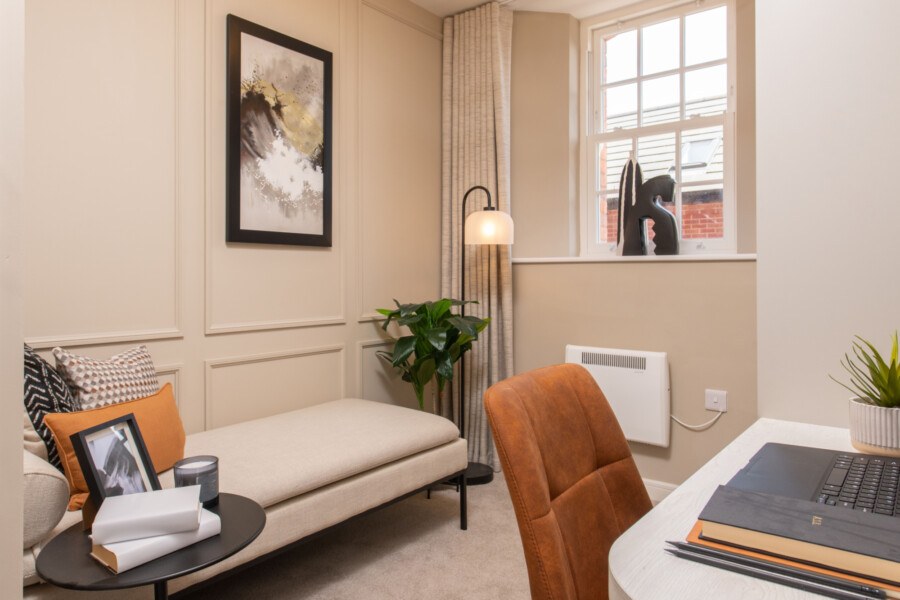 Jessica wanted the showhome to appeal in particular to young professionals and first-time buyers who wanted to embrace contemporary living, as well as individuals seeking a "harmonious balance of serenity and convenience" in their new home.
A key feature of the apartment's design is therefore the working from home space located in the second bedroom, intended to capture the imaginations of those following the evolving trend of remote working. By providing dedicated areas for both work and rest, this demonstrates how an apartment can meet the diverse needs of our modern lifestyles.
Looking ahead for interior inspiration
When planning the interior décor of The Mercian showhome, like many homeowners, Jessica explored websites such as Pinterest for ideas – particularly for distinctive furniture pieces such as the media unit in the living area – however she also used her insider information as an interior designer when selecting the décor trends to incorporate:
"At Blocc, we know that it's essential to stay ahead and anticipate what's to come. My inspiration for this showhome was deeply rooted in future trends rather than current ones."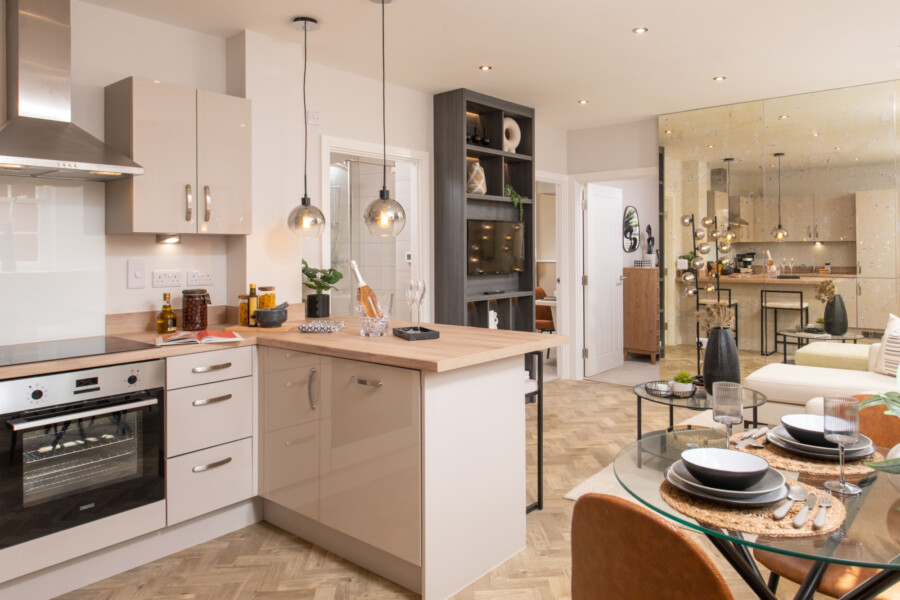 Every design feature in a showhome is carefully and deliberately chosen, and Jessica explains some of the details in The Mercian, including the enchanting mirrored wall in the open-plan kitchen, living and dining area.
"The placement of the mirrored wall at the forefront upon entry was a deliberate choice to instantly evoke a sense of wonder as you entered the apartment," she reveals.
"Mirrored surfaces serve a dual purpose: beyond their ability to captivate as focal points, they ingeniously manipulate spatial perceptions, effectively enhancing the perception of a space beyond its actual dimensions."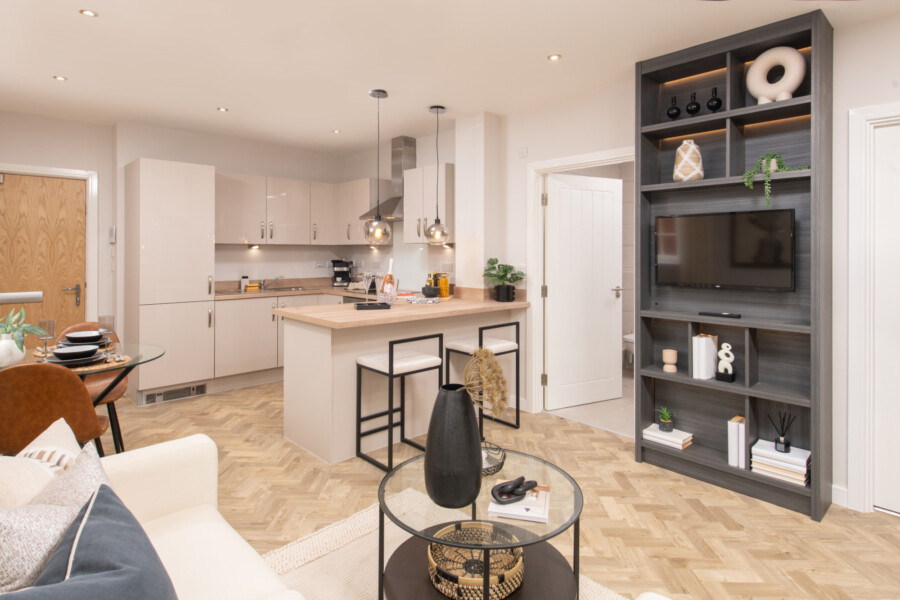 While the mirrored wall is undoubtedly the stand-out feature in The Mercian, Jessica is particularly proud of the media unit, an entirely custom-built piece for this showhome that is functional and flexible in its purpose, and fabulously stylish.
"The cleverly positioned bespoke media unit commands attention with its astute functionality, even in its compact form, offering both impact and storage solutions in the living room," Jessica explains.
"It provides an excellent canvas for styling, allowing for a curated display of decorative items, books, and personal mementos that not only enhance aesthetics but also offer an opportunity to infuse individual character into the space."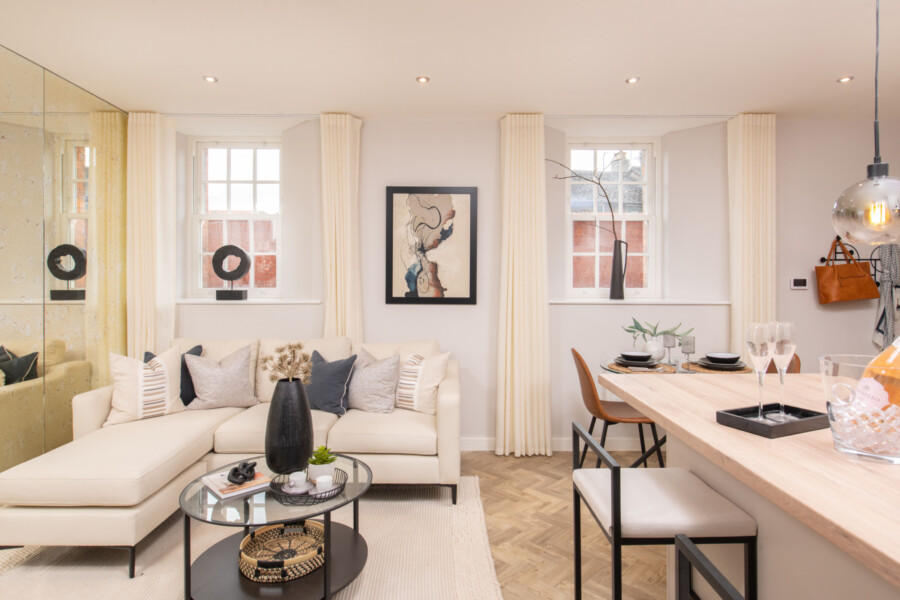 Jessica also wanted to celebrate the most striking features of the building itself, with thoughtful design choices that were still rooted in practicality:
"My intention was to highlight the distinctive shape of the windows, which carried the essence of The Keep's historical charm.
"To achieve this, I utilised sheer curtains to allow the architectural beauty to shine through, blending privacy with a light and airy aesthetic. The fusion of old-world architecture and contemporary design really give this property its unique and appealing character."
Introducing showhome style to your own home
If you're feeling inspired by the chic interior style of The Mercian, Jessica and the Blocc team have advice to help you incorporate its style into your own space – whether you're moving into a new build home, or simply updating your existing property.
"You can begin by opting for black finishes, and contrasting against light upholstery for that touch of modern elegance," Jessica suggests. "Selecting furniture with clean lines will also enable you to mimic the sleekness of this design.
"To echo the warmth seen in this show home, we recommend integrating cushions in shades of tan and burnt orange. Styling finishes include minimal accessories and touches of foliage."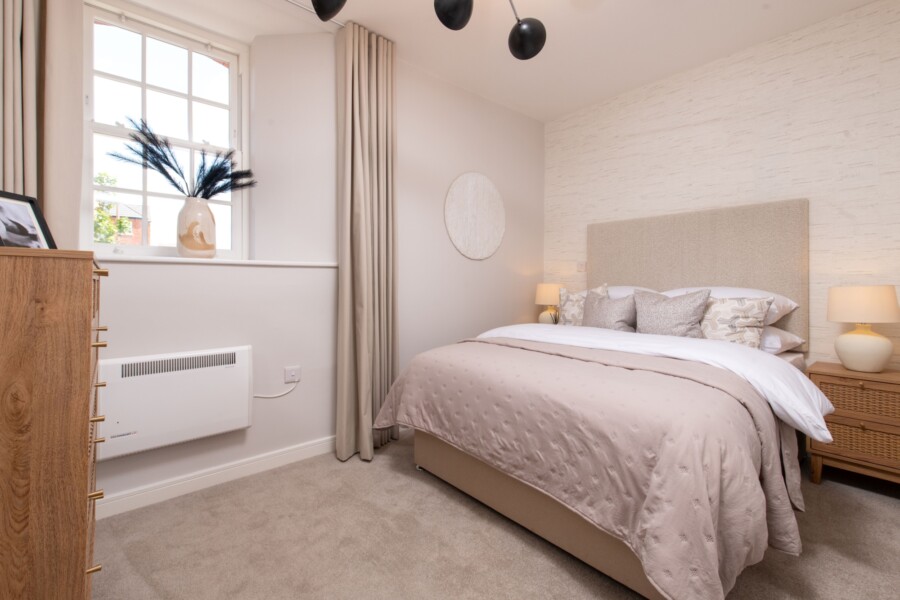 However, for those moving into a brand-new home, we asked Blocc to share three expert tips for planning your interior décor and transforming your blank canvas, into a unique home that you'll love to live in, for many years to come:

Be true to your own style - "Harmonise future trends with your personal preferences. While looking ahead to trends is a savvy move, don't forget to weave in elements that resonate with your own style. Strike a balance between current trends and your own individual taste to ensure a space that feels authentically yours."
Accessorise with colour and texture – "Choose a timeless colour palette and get brave with interchangeable elements. Apply your braver prints or hues to elements that can be easily swapped out, like cushions, throws, and accessories. This way, you can refresh your space effortlessly and adapt your décor to changing seasons or moods without undergoing a complete overhaul. This flexibility ensures your home remains an evolving canvas of comfort and aesthetics."
Add luxury with artwork – "Invest in a high-quality artwork. These types of pieces will not only inject a touch of luxury and sophistication to your space but will also serve as captivating focal points, instantly transforming your surroundings. Choose art that resonates with you to add a personal dimension to your interior."
According to the team at Blocc, embracing these three tips will "allow you to curate an interior that marries timeless appeal with your own unique flair, making your Bellway house truly feel like a home."
To see even more of The Mercian show apartment, visit the dedicated Copthorne Keep development page on the Bellway website. And for more information and inspiration for styling your home, take a look at how real Bellway homeowners are adding luxury to their interiors, and our new build home decorating tips that will help you to plan the process and make the most of your efforts.
The experts at Blocc have also shared their insightful home staging tips to wow your potential buyers, a must-read if you're thinking of putting your current home on the market and want to make sure it's memorable – for all the right reasons.
Topics
Inspiration
Showhome Spotlight
You might also like
All Inspiration articles