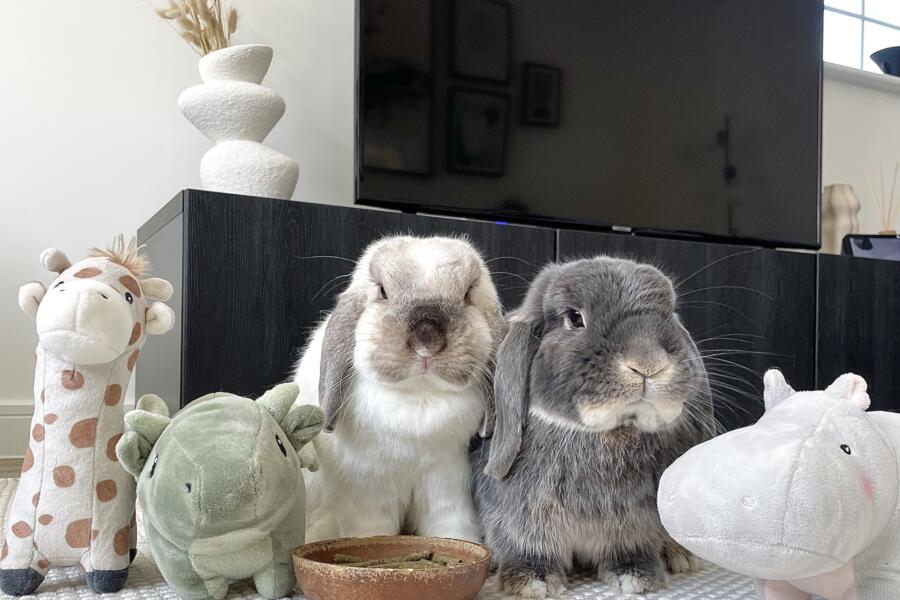 In this month's edition of Our Nest, we meet Shantelle and Hugo, who had a very specific requirement when searching for their dream Bellway home: it needed to be perfect for their two pet bunnies, too. The couple 'hopped' at the chance to secure a 3-bedroom Japonica, which offered everything they wanted in a home to suit their busy teacher lifestyles, plus plenty of space for their rabbits, Crisps and Brie, to enjoy.
Shantelle and her husband Hugo have been documenting their new home journey on Instagram at @hopinsideourhome, sharing snapshots of their elegant interior, DIY project videos, and of course lots of cute bunny pictures. In just one year, the couple have transformed their blank canvas into a Scandinavian-inspired, cosy home that meets the needs of the whole family, whether they have two legs, or four.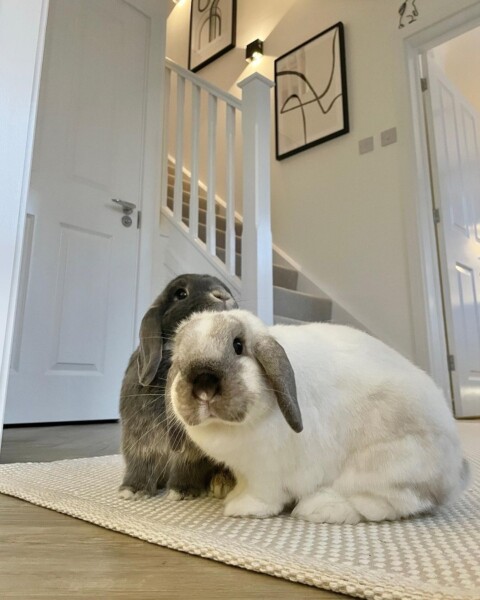 "When we moved from our first home together, we decided that a new build was the way forward, as we'd start off with a blank canvas without having to do any structural building work ourselves," explains Shantelle.
Boasting an open-plan kitchen and dining area with an adjoining utility room, a separate living room, and two double-sized bedrooms including one with an en suite, The Japonica is designed to accommodate the demands of modern lifestyles, with ample room to grow and evolve.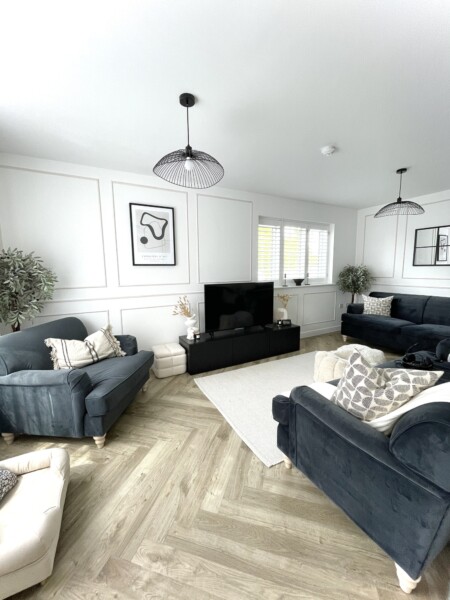 "The Japonica was the right choice for us due to it having the utility room, which made us choose this house style over a 4-bedroom home. I love having the washing machine in a separate room, particularly when having to dry clothes inside during the winter.
"I also liked the size of the bedrooms, and the en-suite bathroom, which made the home feel even more spacious. However, when looking for our home, another important thing was ensuring that our bunnies had space for their own home – and the little nook in our dining area is perfect!"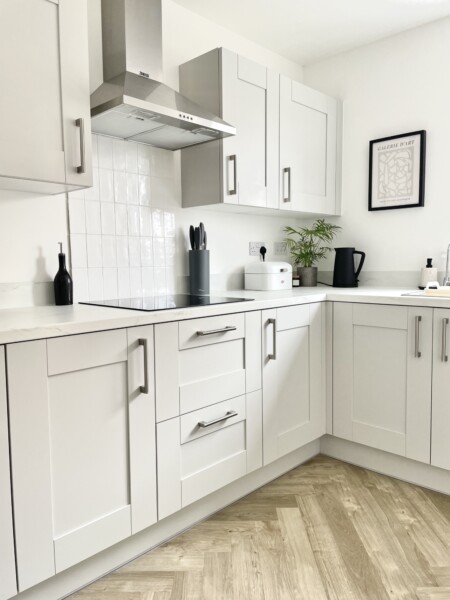 The couple wanted to make the most of the space outside of their home too, including maximising the potential of the garage space.
"We were impressed with the size of the garage in comparison to our old home. It allows us to have a gym at the back, whilst still fitting in my car if I need to," says Shantelle.
"And with The Japonica having a dual aspect, we benefit from an ample-sized front garden, and our plot provides us with enough space for four cars on our driveway. I didn't want our friends and family to have to park on the road when visiting us, so this was another consideration we made when choosing our particular plot."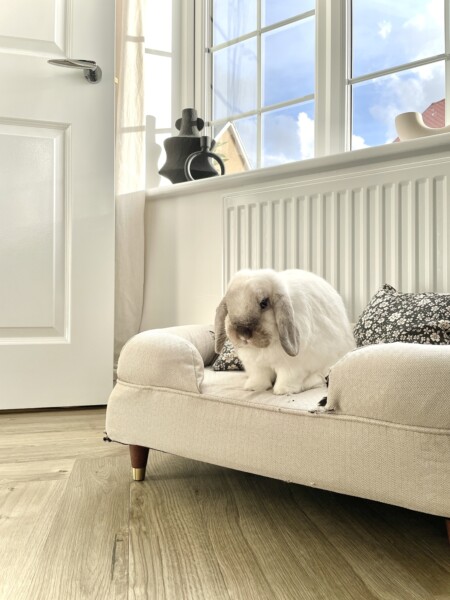 Shantelle describes their interior décor as "neutral, mixed with a bit of Scandinavian", and their bright, fresh-feeling home with muted accents of green and blue has won them many followers and fans on social media.
"I get a lot of my inspiration from looking on Instagram and browsing home stores. Before we even completed on our home, I had lots of mood boards with pictures of our rooms with nothing inside.
"I saved images on Pinterest and Instagram, using the categories to organise them, and even did a few Instagram polls to help me make decisions."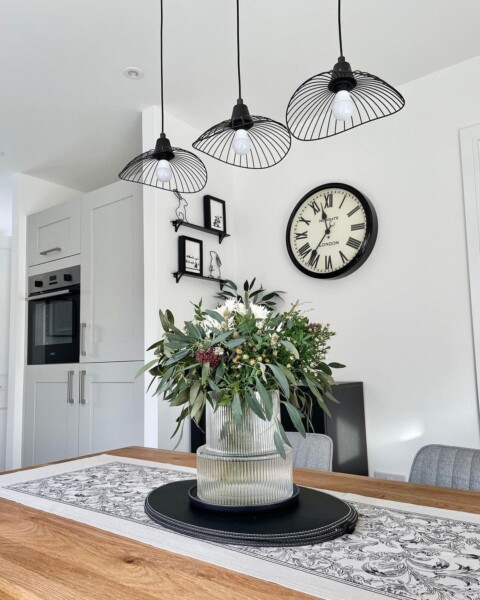 While she's a fan of high street bargains, looking for unique homewares, and bringing home trinkets from their travels has helped Shantelle to curate a home interior that feels entirely personal.
"When designing my home, I start with neutral colours and then add colour through accessories. I do try to source pieces that nobody else has, in particular by visiting local garden centres, shopping on holiday, or even using branches from our olive trees for indoor foliage," she explains.
"I love finding neutral rabbit ornaments that don't look out of place with our home interior style, such as the white Art Deco-style rabbits that I found in Paris when we were visiting one New Year."
Designing a home that every bunny can enjoy
Sharing a home with two rabbits means that Shantelle and Hugo have to consider their needs when making interior design decisions – not just for practicality, but also for their safety and wellbeing.
"Whenever I buy a piece of furniture, the first thought in my mind is: are the bunnies going to nibble it?" Shantelle laughs. "I've had rabbits for over 10 years and so a lot of the furniture we own has metal legs, or is raised so that they can crawl underneath it. Our bunnies would rather chew their willow sticks though, which I keep dotted around the house, in their favourite places to go."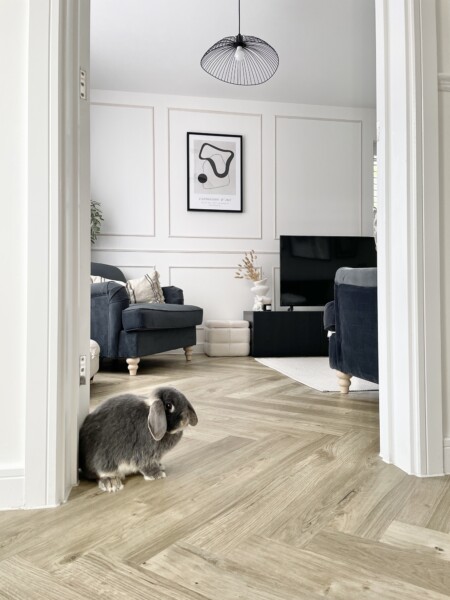 Even during the process of choosing the options and Additions for their new Bellway home, the couple were prioritising their beloved pets' health and happiness:
"Carpets would give the bunnies sore hocks, which are harsh friction burns where their fur comes away from zooming around the house, while flooring that was too slippery for them would lead to injuries.
"Fortunately Bellway offered the option of Amtico flooring, which has little grooves on the surface to provide grip. We therefore chose this for the whole of our downstairs area, which has been perfect for the rabbits as it also feels cool for them to chill on when the weather warms up!"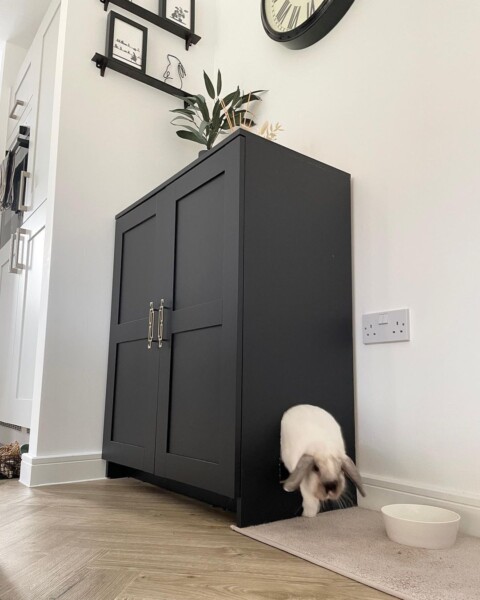 Shantelle and Hugo have also found clever ways of seamlessly integrating their pets' furniture with their own, including customising pieces to make them bunny-friendly, without taking away from their home aesthetic.
In their dining area, a black IKEA cabinet with a hole cut into the side has become a digging box for the rabbits; Shantelle is particularly proud of this DIY, adding: "it looks so subtle, whilst also minimising any mess."
Must-read advice on decorating a new build home
Having owned a home together previously, the couple were no strangers to DIY and decorating, so being able to put their stamp on a brand-new home was an exciting challenge for Shantelle.
"What I've enjoyed most about decorating a new build home is doing more things ourselves, particularly our front and back garden. We've re-paved, added ornaments and trees, and even cemented in a pergola!
"It was tough work, but the sense of achievement from doing it ourselves has been particularly satisfying."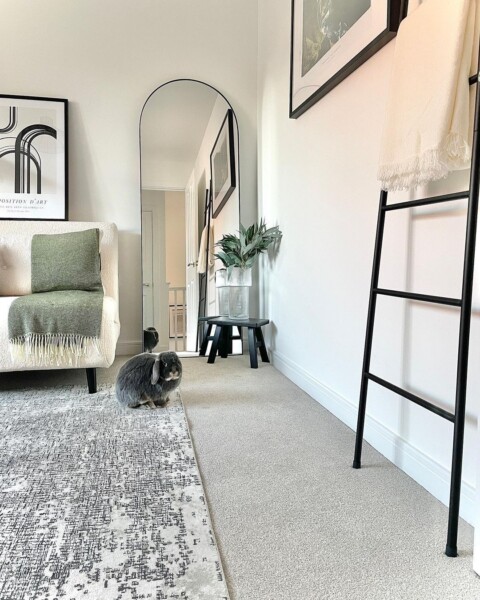 Shantelle has also picked up some ingenious tips that have helped to make the process of decorating a new build home smoother, and avoid any hiccups along the way:
Make the most of your site visits: "Take lots of photos of your new home when visiting during the build process, if you can. What we also found really useful was to take a video of the whole house before it was boarded and plastered – this meant that any drill holes we made in the walls wouldn't burst any water pipes or damage cables, as we could check back on the video first to see where they were situated."
Consider your existing furniture: "Measure up for your large pieces of furniture, such as your bed and sofa, in your new home. As we moved these things from our previous home, we needed to make sure they were going to fit."
Measure up for success: "Always plan your bigger projects on paper, or digitally with all the associated measurements. When mapping out our interior panelling, and the garden, I did both digitally."
Consider your future plans: "In your new home you might need to accommodate for an expanding family, as well as friends visiting. Don't waste money on decorating a spare bedroom if you're planning on starting a family and might need to change the decor."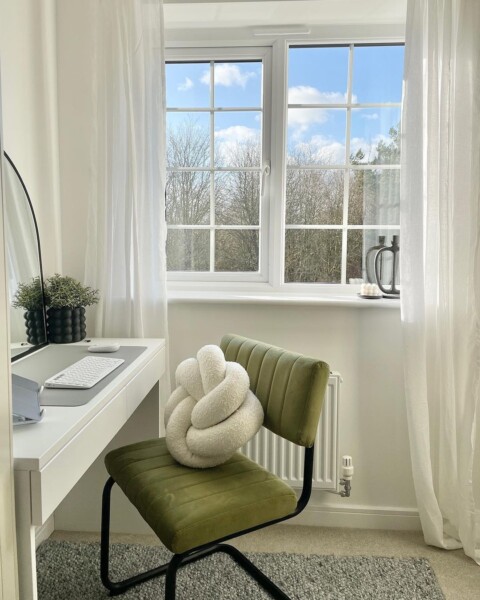 You can follow Shantelle and Hugo's Bellway home journey over at @hopinsideourhome, and see more of the bunnies on their dedicated page @bunsunderthestairs. For more inspiration from real Bellway homeowners, take a look inside Abbi and Jack's Misbourne, which has a fabulously eclectic interior style.
If you'd like the chance to be featured in a future edition of Our Nest, share your best Bellway home interior photos with us @bellwayhomes using our dedicated hashtag #mybeautifulbellway.
Topics
Inspiration
Our Nest
You might also like
All Inspiration articles