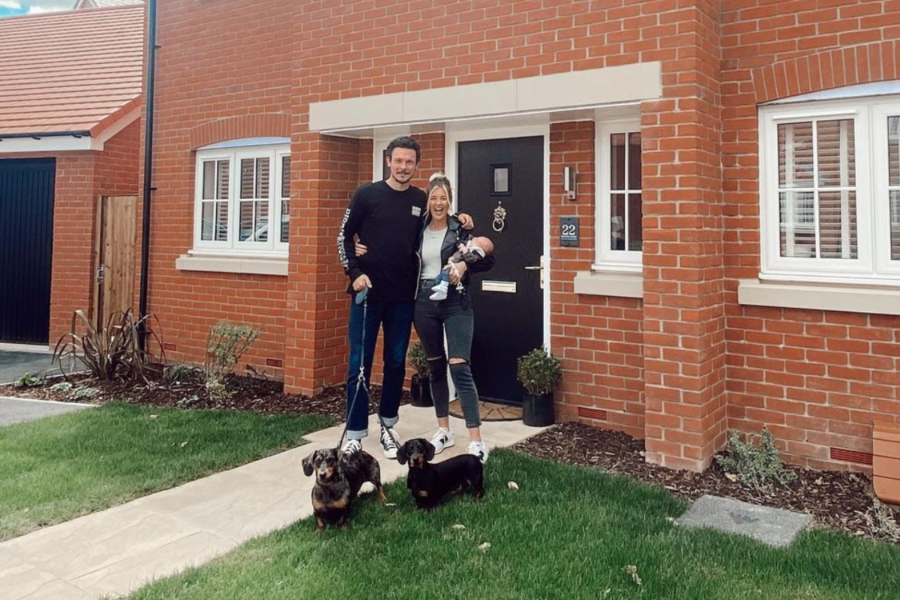 Welcome to Our Nest, a brand-new feature in which we introduce you to members of the Bellway homeowner community whose inspiring and truly individual homes are certain to capture your imagination. No longer a blank canvas, these new build homes are as full of personality as the families that live in them.
In this first edition, we're introducing you to Abbi and Jack Legate, who share their journey of "jazzin' up" their new build on Instagram at @living_at_ourmisbourne. The enchantingly eclectic interior style of their 4-bedroom Misbourne has won them many admirers on social media, as the couple demonstrate that with a little creativity and lots of time, patience, and Pinterest boards, a new home can be just as characterful as an older property.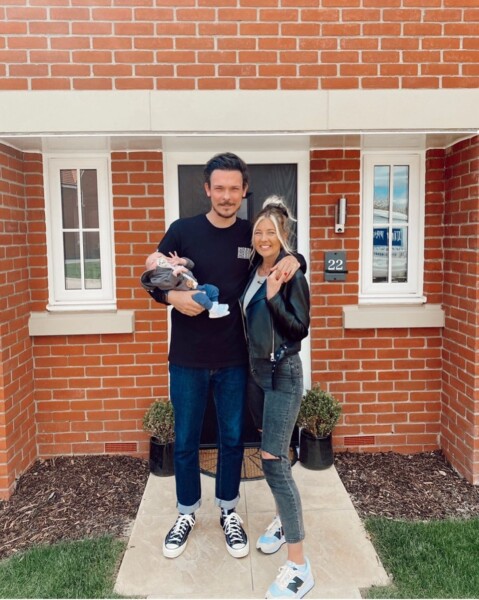 Abbi and Jack were high school sweethearts, and are now preparing to welcome their second baby in September 2023, a sister for their son, Buddy.
Choosing a new build home to accommodate their growing family, plus two dachshunds, Frank and Daphne, was an easy decision – in fact, it couldn't have been easier, as the couple moved from a 2-bedroom home on the same Bellway development.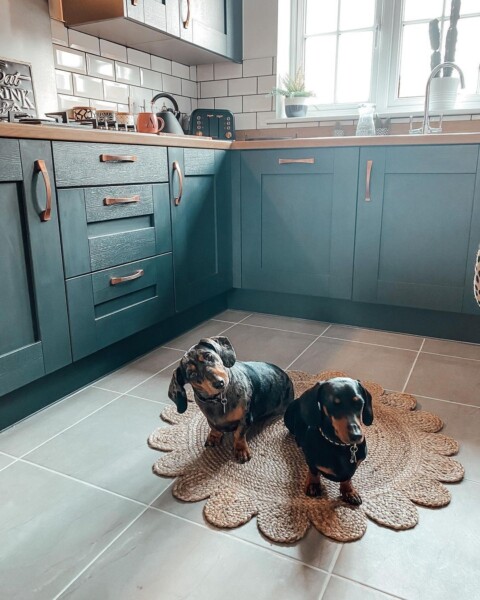 "It was the most perfect set up for us", says Abbi about their first Bellway home. "We were able to get onto the property ladder, and make it homely whilst still enjoying nice holidays, days out, and dining out a lot!
"After around 4 years there, we fell pregnant with Buddy and quickly realised we needed a bigger house. This prompted us to get in touch with Bellway again as our first point of call, since we knew we wanted to stay on the same development and had a good buying experience with them previously".
A home for decorating, not for renovating
There was never any question of Abbi and Jack buying another new build home, as they both love decorating and "making things pretty", but not so much renovating. The blank canvas of a Bellway home meant they could jump straight to their favourite part, without needing to make potentially stressful or expensive updates to their property first.
The couple had an extensive wishlist of features for their next home, to support their current lifestyle whilst future-proofing for the demands of family life.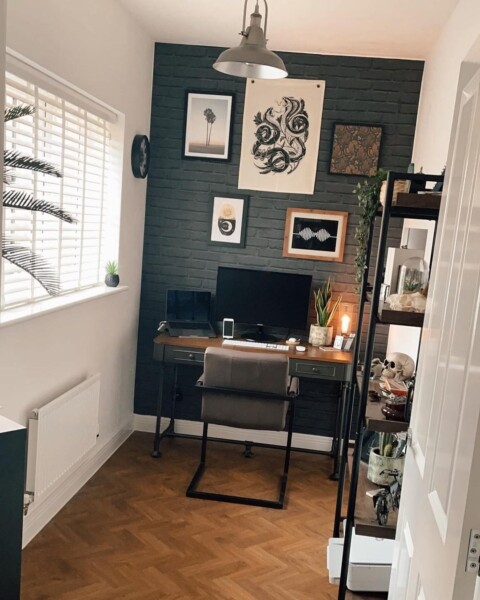 "The things we wanted included a study for Jack to work from home, and a big open-plan kitchen and dining area since we love to host dinner parties and spend a lot of time in the kitchen cooking.
"Then we wanted a utility room - for all those never-ending family laundry piles you don't want anybody to see – plus a south-facing garden, since we love the sun and are outdoorsy people. Finally, we wanted a garage for extra storage since we knew this would be our family home."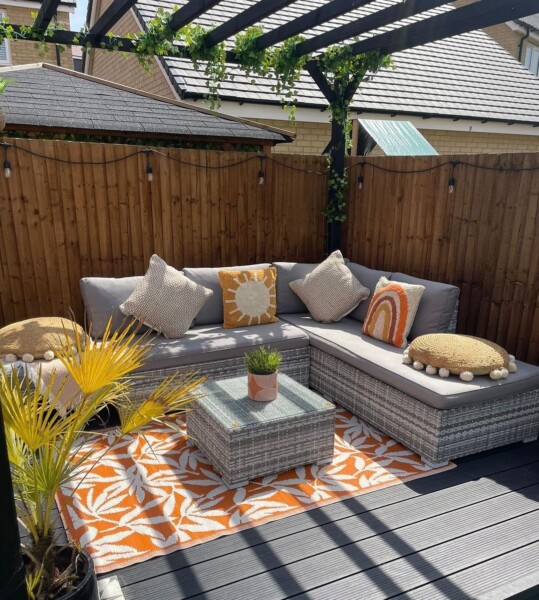 After making "around ten" visits to a Misbourne showhome, and taking lots of walks around their development to choose the perfect plot, Abbi and Jack were confident they'd found the ideal house style for them.
The Misbourne ticked off everything on their list, and more: in addition to an extensive, open-plan kitchen and dining area, a utility room, and a dedicated study, this Bellway house style boasts a living room with plenty of space for children to play, four double-sized bedrooms including one with an en suite, and a bathroom with a separate bath and shower, plus a convenient downstairs cloakroom – which is certain to mitigate future family bathroom battles as the children grow older.
Adding vintage style to a brand-new home
Before moving into their Misbourne, Abbi spent many hours creating mood boards on Pinterest, and saving images on Instagram to help her plan how their new home interior would look. Inspired by the aesthetic of Edwardian and Victorian homes in London, the couple wanted to incorporate vintage styling into their décor; in a brand new home, this meant installing impactful and authentic-looking features, as well as making some tweaks to the contemporary fixtures and fittings it came with.
"To give our new build home that 'older' feeling, we added things like panelling on the walls and brick slips in our cloakroom," explains Abbi. "We laid Victorian-style tiles in the entrance hallway, and a carpet runner down the stairs. In the kitchen we changed all of the cupboard door handles, and had vanity units fitted under the bathroom sinks, as well as switching the standard white bath panel for a wooden one.
"However the feature that we're most proud of is our TV wall. We had a local carpenter bring the wall forward and insert a small electric log burner inside, as well as putting our television into the wall. He also finished off the fireplace part with brick slip tiles to make it look realistic. It changed the whole look of our living room and we absolutely love sitting in there on an evening when our little boy is in bed, and we get some chill time in front of the TV with the log burner on."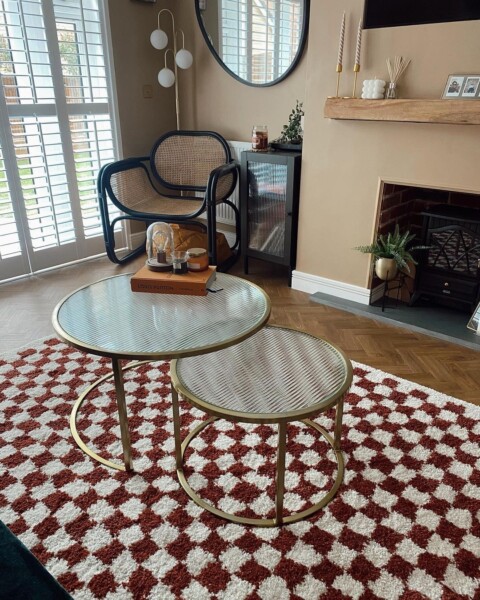 But there is still plenty more that the couple are planning to change to give their home that little more character.
"We genuinely love the whole decorating process, from mood boarding and designing the rooms, to then shopping and finally doing most of this decorating ourselves in our scruffs and seeing our visions come to life."
Abbi let us in on the secrets to their unique interior style, which are being open-minded, and curating their home décor with a fusion of contemporary furniture, and found or thrifted pieces.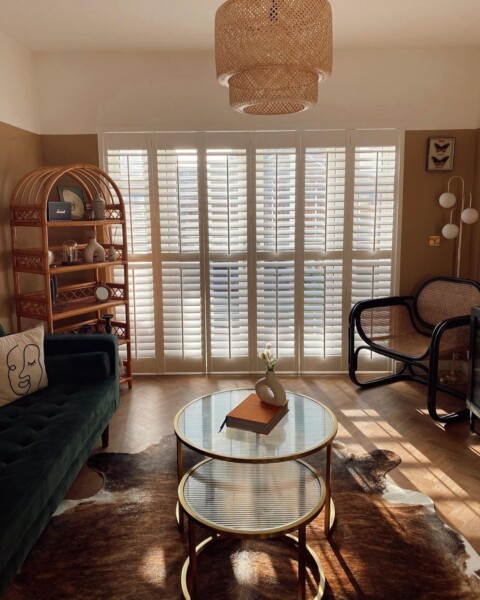 "We get homeware items from lots of different shops; as well as the large chain retailers we also look in charity shops, vintage stores, and independent boutiques when we're travelling away from home or on holiday overseas.
"It's all about finding the right things for you as you go along, rather than hurrying to get everything in one place."
Making a home in The Misbourne
Now in the third year of living at their Misbourne, Abbi and Jack are reaping the benefits of upsizing to their "dream" family home.
Just as they hoped, the open-plan kitchen and dining area has become a hub of activity, and a favourite place for Abbi and Jack to spend time as a family or with friends.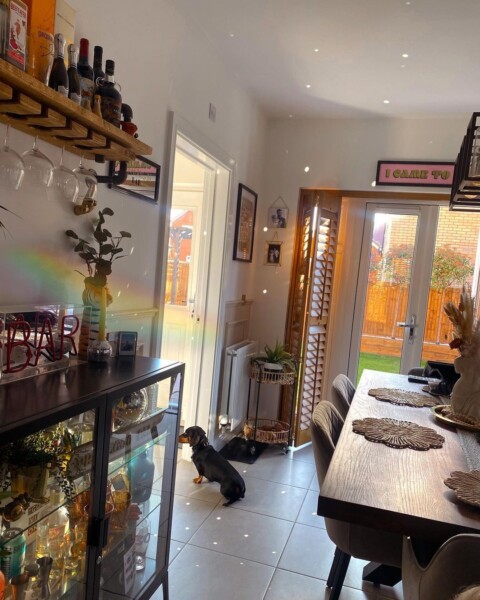 "It's such a bright, colourful space where I love spending time cooking for our family, whilst our little boy is playing or sitting at the table, colouring" enthuses Abbi. "We sit at the table and eat dinner together every night, which is something I always dreamed of doing since I was young.
"And when we want some baby-free time, we host dinner parties for our friends that always end up turning into a disco with everyone up and dancing. We have a little bar and a disco ball which helps to set the mood!"
Abbi and Jack are currently in the process of decorating their second nursery in anticipation of their new baby's arrival, however Abbi says they have a long list of tasks that they still want to tackle, "plus lots more that I haven't even mentioned to Jack yet!"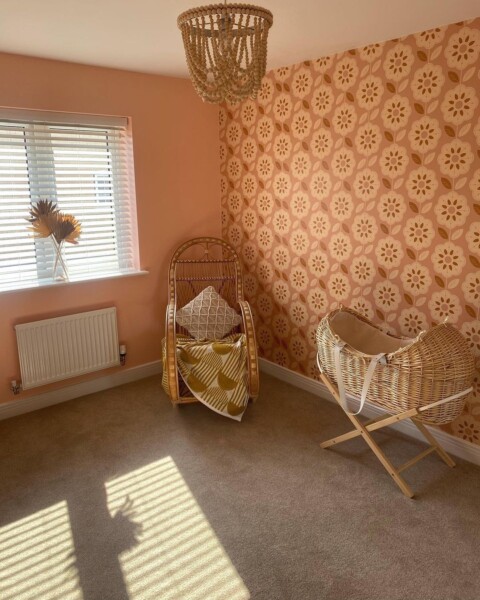 "Our advice to anyone starting the process of decorating a new build home is: don't rush! It definitely takes a lot of time.
"More than two years in, we still have so much we want to do. But we feel so happy, content and fortunate that we have everything we could have wished for our thirties to bring!"
You can follow Abbi and Jack's Bellway home journey over on Instagram at @living_at_ourmisbourne. If you'd like the chance to be featured in a future edition of Our Nest, share your interior style with us @bellwayhomes using our dedicated hashtag #mybeautifulbellway.
Topics
Inspiration
Our Nest
You might also like
All Inspiration articles