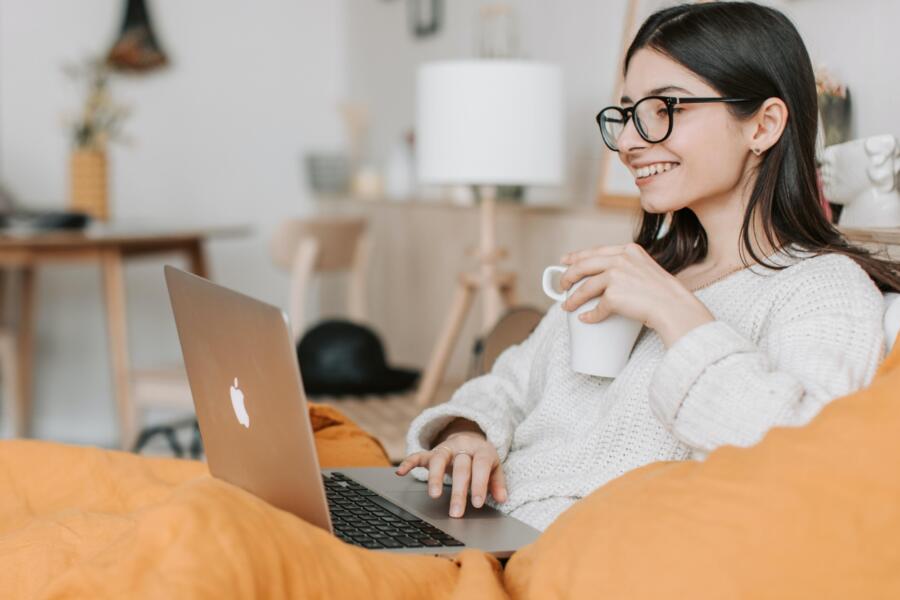 From cutting down your weekly commute time (or eliminating it altogether) to providing a quieter working environment, working from home has so many benefits. However, without the office routine you can easily find yourself skipping lunch breaks or keeping your laptop open long past 5pm. 
Whether you work from home daily or just once in a while, keeping a work-life balance is crucial. Here are our tips to improve your day when doing your 9-to-5 from home.
Do something you enjoy every day
Going to a fun exercise class at the gym to break up the day, or meeting a friend for a coffee before or after work - whatever makes you feel energised, penning an enjoyable activity into your calendar ensures that you have something to look forward to around working, and which could also get you out of the house. 
It doesn't have to cost money either, as heading outside for a walk or run to your favourite tunes at lunch will do the job when it comes to getting your happy hormones going. Booking in time to socialise will also help to stave off any feelings of isolation; during your remote working hours, even a simple phone or virtual call instead of an email can do wonders for your mental wellbeing.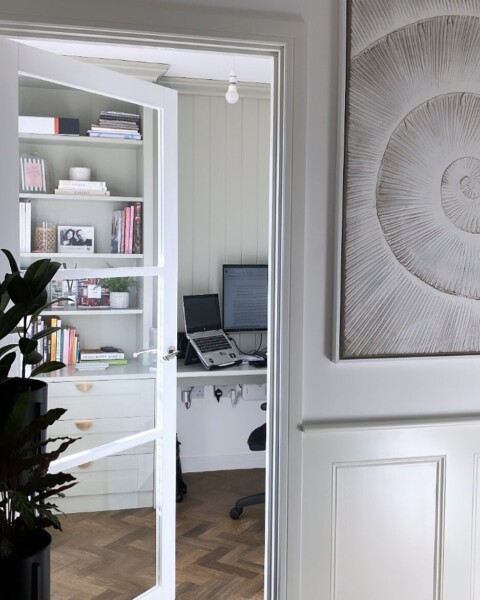 Image credit: bellway_carrisbrooke
Keep to a morning routine
While rolling out of bed at 8:50 a.m. does technically make you on time for the workday, it's better for your mental wellbeing if you carve out a morning routine that helps you feel energised and ready for the day.
Wake up at least an hour before opening your work laptop, and dedicate around 15 minutes for relaxation - such as a sit outside in the sunshine, a quick stroll with the dog, practicing mindfulness or yoga, or even journalling. Set aside about 20 minutes for personal care, and then the remaining 25 minutes for making a balanced, filling breakfast.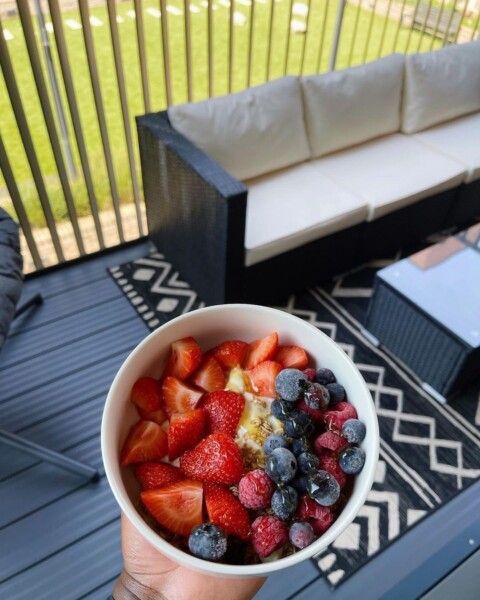 Image credit: homebybukky
Create a separate work from home area
To keep your work life and personal life separate, it's important to have a dedicated work-from-home area so that once you log off, you can switch off mentally too. It's a more productive way to work from home, away from anything that might pose a distraction, such as the TV, housemates or children, or your never-ending chores.
Something as simple as a corner with a desk, chair, and monitor, along with some motivating artwork on the wall is a great way to start. A next step is to paint the walls of your home office space with calming colours to brighten it up without making your mind feel busier. 
If possible, choose somewhere in your home with a good source of natural light and fresh air, as this will help keep you focused and feeling awake throughout your working day.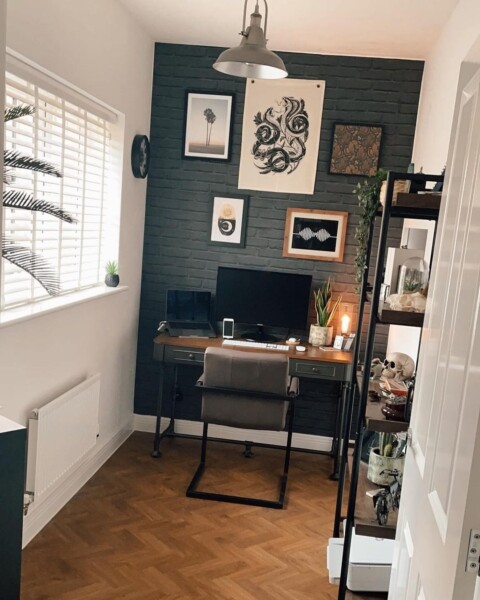 Image credit: living_at_ourmisbourne
Break up your household chores
When you regularly work from home, it's hard to escape the gaze of those dirty dishes or that full laundry basket. Living in an untidy home can make you feel disorganised, stressed, and can even worsen mental health, so it's important to regularly set aside time for cleaning. 
This can be quite overwhelming when you don't have the separation between work and home life, so make sure to allocate yourself time during the week to clean. This could be as part of your morning routine before starting work, or during the evening before winding down.
It's also a good idea to divide tasks up throughout the week, too, so that you are only spending a set amount of time on housework each day, and protect your free time for activities that you enjoy doing.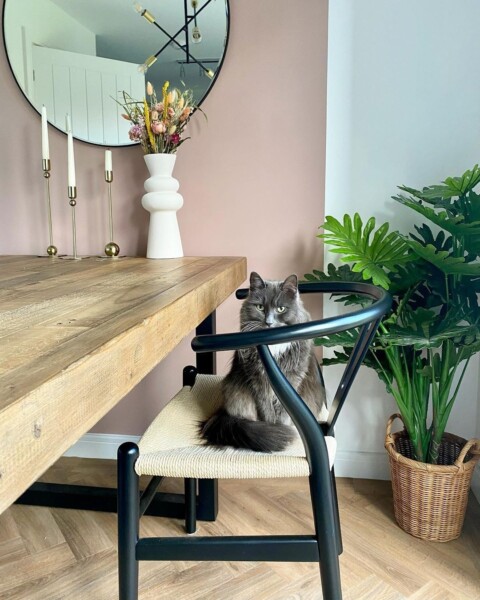 Image credit: tailorhome_39
Eat a balanced lunch
After working all morning, it's understandable that you want to switch off during your lunch break and make an easy meal (which often isn't the most nutritious – we're looking at you, instant noodles). While this is fine for a one-off occasion, doing this every lunchtime won't provide your body with the energy it needs to power you through the afternoons.
You have a full kitchen at your disposal, so take the time to make a simple yet filling lunch, such as grilled chicken or falafels with salad in a wholemeal wrap or a mixed vegetable stir-fry. Not only are you eating a nourishing meal, cooking can be an enjoyable and mindful activity to help break up the day.
For a quick fix, batch cook and freeze portions of healthy meals that can be popped in the microwave. Meal planning for the week is a great way to save time and money while also keeping your meals balanced.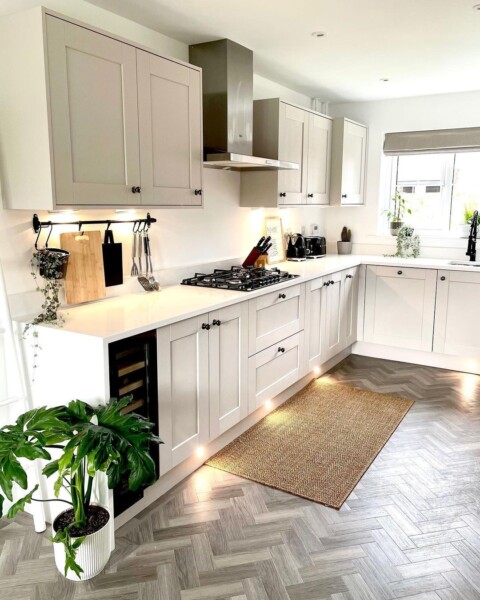 Image credit: littlehousearoundthecorner
Give yourself some 'me-time'
When you're not leaving the house, it can be tempting to throw on the first clothes you see and leave your hair undone, and your skincare regime untouched. However, it's important to look after yourself, and doing so can make you feel more refreshed, and ready for the working day.
Carve out time for yourself during your day – as mentioned before, you can make it part of your morning or lunchtime routine – and then make sure you prioritise sleep in the evening with a set schedule before bed rather than aimlessly watching TV until you fall asleep.
Finally, as tempting as it can be to stay logged on a little longer to send that email or file that report at the end of your working day – after all, you don't need to rush home – it's important to stick to your set hours. Overworking yourself can heighten your stress levels and reduce your overall life satisfaction, and even increase your chance of making mistakes at work.
For more tips on working from home efficiently, take a look at our guides to creating the perfect home office environment, and staying focused and productive when working from home. 
Topics
Tips & Tricks
Home Working